Sonar
I'm not even going to touch the musical side of things because knowing me, I'll spend most of the day time in the shade of the auditorium, and most of the evening getting lost. However, I enjoy both these things and have great plans for a strap-on hydration machine, akin to a bum bag with plastic water bottles instead of pockets. And fruit, lots of fruit.
Anyway, here are some things I'm looking forward to:
Regine WMMNA
has curated the a la carte section which this year has the theme of
Google Earth and Google Maps Hacks.
The ghost of Georges Perec is following me around, this time in the form of
a series of public performances and online mappings that examine the hidden stories captured by private wireless CCTV streams and how they intersect with the visible world around us.
It's still called
Life: a user's manual.
Raster-noton
has a sound installation in the Essential room. (I'm guessing it's
this
)
Social Fiction
are doing a walk. I have to copy the entire blurb, just because:
Oh no! I thought also, it's another one of those zany generative psychogeography experiments which seem to be going on everywhere at the moment. I mean, you can go to any random blog & within 3 double clicks you find yet another report of a psychogeographic walk talking about 'aimlessly wandering in memory of the flaneur' & 'the sublime spell of the algorithm' always supplemented by shady pictures of even shadier back-alleys or modernist high-rises towering into the sky. Well you know, it was fun in the beginning but now it's just everywhere, psychogeography has become as fashionable as Prada. What do I say, it's even worse: psychogeography has turned into the Dolce & Gabana of the pedestrian underground.
And also, some nice wow-inducing tools will be on show:
Valerio Spoletini's
V-Scratch
Marina Yanagisawa's
Howlin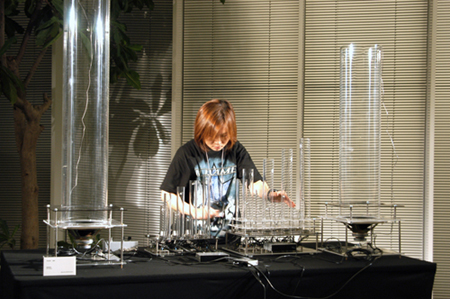 Toshio Iwai's
Tenori-On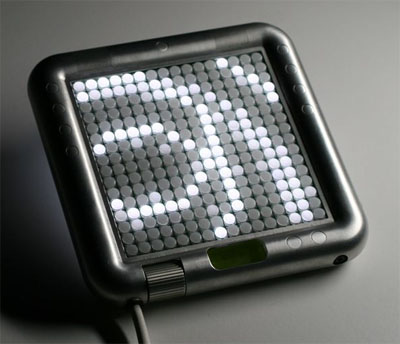 I finish by patting myself on the back: this year I'm staying in 2, not 3 hostels over 5 days. Also coming back 2 days before Leopard Leg record release show at
Bardens
and an exhibition at the Truman Brewery as part of free range. My great time management skills have exerted themselves once again.