Christmas Lights.
I realised it was necessary to leave my desk when I hadn't done much work and had been listening to
FFT POP
pretty much all day. Some real-time human interaction was in order, so I went to Woolworths.
I looked at my calendar and realised it's the 12th. 12 x 2 is 24. The 24th is when we celebrate le Reveillon. I figure now is the time to get festive. This is usually twinned with a panicky feeling, but I've been abruptly eased into the sentimentality via Exile's jingles on Saturday night.
Sometimes we go to France for Christmas. Montguers is surrounded by unnamed forests where we go and mark out our designated pine with a glove. Then we sledge around for a bit, (get lost) find the tree again and chop it down. Nobody notices one tree felled amongst so many, it's ok.
Back in London my mum usually goes 'somewhere on the South Circular' for the cheapest deal. And here on Mare street, in Woolworths, christmas tree fairy light decorations can be found for a decent price. They are all that is left, light-wise. The man at the counter asked if this was the last of my shopping. I confessed it was only the beginning.
Anyway, the christmas tree formations were a little irritating so I changed them so if you squint they say K + M.
They're not quite as great as Zurich's Christmas lights,
The World's Largest Time Piece: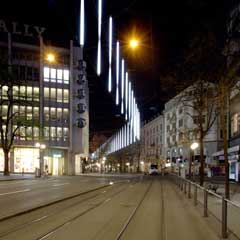 That's 240 000 lights, and 'Xmas Generator' made by
Gramazio & Kohler
which controls the lighting according to visitor frequency.
All I had to work with was 4.6 metres of cable and plastic thread.
At least no one's competitive round here. And when I say competitive, I mean the spirit of Christmas as documented by the people at
uglychristmaslights.com.
Highlight: